Las Vegas
Speak of Las Vegas and anyone would know it as the world's greatest city for gambling. The casinos are located along Las Vegas Boulevard (also known as 'The Strip'). But gambling aside, there are much to see as each casino are beautifully decorated. This is even more spectacular when they are lighted up throughout the night.
The casino is distinctively different from one another as each has been built with a different theme in mind. For example you can find the Statue Of Liberty and the Empire State Building in front of the casino New York-New York. Likewise, you can find the Sphinx at Luxor and the Eiffel Tower at Paris.
The internal of the casinos are equally impressive. Some examples includes the conservatory (a garden with some fantastic plants and flowers arrangement) in Bellagio to the gondola rides in Venetian and the artificial skylines in Caesars Palace.
Some casinos also have some spectacular shows to attracts the visitors. Particularly impressive is the pirate battle at Treasure Island that's full of pyrotechnic actions. Equally impressive is the volcanic explosion outside Mirage. On a lighter note, the fountain outside Bellagio is a delight to watch.
Apart from the casinos, Nellis Air Force Base, home to the world famous Thunderbirds precision flying team, is also located right here in Las Vegas. Tours are available to visitors on Tuesday and Thursday.
Lake Tahoe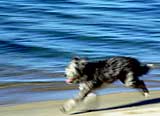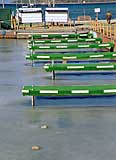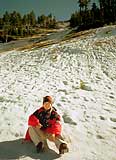 Lake Tahoe lies across California and Nevada. Casinos, while also available here in the Nevada side of Lake Tahoe, pales in comparison to those in Las Vegas. The more popular activities here, however are the winter sports during the winter period. During the summer months, the lake's beaches are highly popular.