Birds make interesting subjects for photography. They are also challenging subjects to be taken. The primary reason being that they are generally small. In addition, they often move at a fast speed.
Some places for birds photography in Singapore includes the Sungei Buloh Nature Park where migratory birds stop over around the month of september to march. However, unless if you own one of those huge and expensive lense, do not expect to get much close-up shots of the birds.
On the other hand, 'bird shooters' might have better luck capturing birds in captivity. One such location in Singapore is the Jurong Bird Park. While the entrance fees to the park is rather high, photo opportunities are in abundance. In addition to the various bird shows (where you can try your luck in capturing birds like owls and eagles, both in flight and at rest), the walk-in aviary is also a good place to capture the birds.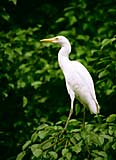 Some additional 'tips' for shooting in Jurong Bird Park here. A telephoto lens be indispensable given that a lot of birds are small in size. Those with good prime lense might want to double their zoom with a 1.4 or a 2.0 teleconverter. Choice of films depends a lot on the individual. Some might prefer to load up their camera with high speed films for those fast inflight shots and for the relatively dim lighting conditions in the aviary. Lastly, do not give those beautiful birds a miss just because they are in a cage. With a long telephoto lense and a wide aperture, it is often possible to throw the cage completely out of focus when your lense right up to the edge of the cage. Some of the photos here are taken through a cage. Can you spot the difference?