Langkawi is made up of a fasinating group of island located on the north-western part of Peninsular Malaysia and is easily accessible via daily flights from Singapore to the island.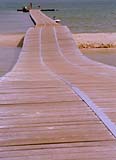 Apart from the beautiful beaches, there are plenty to see around the island. One of my favourite attraction in Langkawi is Pulau Payar Marine Park. Located about 30 kilometres south of Pulau Langkawi, it has a huge floating platform that can be reached via ferry or speedboat. An abundance of beautiful corals,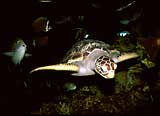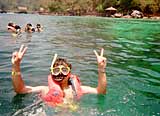 fishes and various other marine lifes can be found in the crystal clear water surrounding the platform. Those not ready to get wet can still catch a glimpse of the underwater world through glass bottom boats or the underwater viewing gallery on the platform.
Alternatively, visitors can also visit the Underwater World located in Pantai Cenang on Pulau Langkawi to view the various marine lifes in the comfort of an air-conditioned aquarium. Those looking forward to seeing more wildlifes would want to visit Pulau Singa Besar, where various animals such as the monkeys, mousedeers, peacocks and various reptiles can be seen.
A number of waterfalls can also be located on the island. Those who simply wants a quiet and relaxing holiday to get away from the busy city life would probably end up in one of the few less populated beaches around the island. Afterall, watching the beautiful setting sun along with the unrelentless waves is one of the best way to bring those stress away. Well at least that works for me.